Debts Consolidation Loan
A consolidated loan to clear all your debts to reduce the interest expenses for you!
Reduce interest expenses to save up more for you
Flexible repayment terms for your better plan
Personalized interest rate tailor made for your need




UA Debts Consolidation Loan

Credit Card Repayment

Interest

Much lower than credit card's
Simple interest calculation
Fixed interest rate which will not be adjusted during repayment period

Annual interest rate is around 35%, some banks even fix more than 40%
Compound interest calculation
Interest rate can be adjusted from time to time during the repayment period

Repayment Amount

Fixed monthly repayment amount unless the borrower has made special request
Most of the payment is repaid for the principal

Repayment amount can be adjusted according to the borrower's financial status but minimum monthly payment has to be 5% of the balance
Most of the payment is repaid for the interest

Repayment Period

Less than 5 years according to the borrower's financial status in most cases

Repayment period could be up to 10 – 20 years if only minimum payment is being settled every month

Annual Fee
Michael is the senior management of a media company, earning a monthly income of HK$125,000. Money is not a big worry for his family. Unfortunately, he has been in the red after losing a great deal of money during the economic tsunami. His financial situation has been worsened as he has to repay HK$33,000 for two mortgage loans each month. This leaves him with no choice, but to use credit card and cash advance services to settle daily spending and other utility bills. In fact, the interest rate of credit card debts is alarmingly high and cash advance service requires extra handling fee. Michael has eventually accumulated a huge amount of debts, which is HK$1,890,000 in total. He can only afford the minimum payment every month. Facing this enormous financial burden, he seeks help from UAF through his friends. UA offers him a comprehensive financial plan to clear all credit card debts at once with our signature product, UA Debts Consolidation Loan, sharply reducing his interest expenses as high as 81%!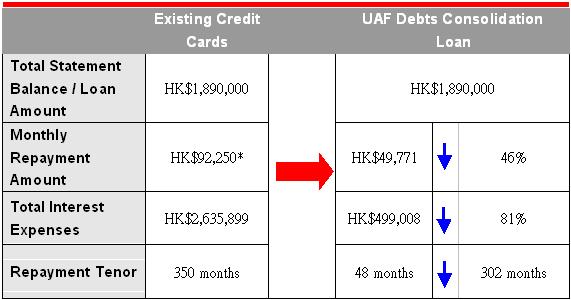 Miss Lam has a stable monthly income of HK$28,000 as a marketing professional, but she is a typical shopaholic and usually pays by credit card. Not for long, she has a troubled debts of HK$570,000 and can barely pay the 5% minimum payment amount. At this difficult moment, Miss Lam finds out from advertisements that UAF's Debts Consolidation Loan can help her to repay all credit card debts at once, significantly reduce the interest expenses and offer her a flexible repayment tenor as a total solution. Therefore, she finally approaches UA and successfully gets a loan of HK$570,000 to repay all debts within half day. In addition, she is also offered an e-Cash Revolving Loan of HK$100,000 for her future use. As long as she does not drawdown any e-Cash Revolving Loan, no interest will be charged. With the help of UA, Miss Lam only needs to repay $15,010 per month, with a loan tenor of 48 months at an interest rate far below her credit cards, saving up to 81%.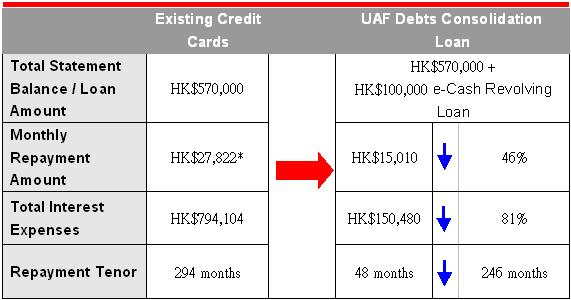 Miss Lam shared, "Compared to the credit card burden, I am free from heavy debts and even able to save some pocket money for myself now!"
Note:
+As of May 2023, UA's cash reward is the highest among the major financial companies in Hong Kong.
* The above cases are calculated based on the assumptions and are for reference only: 1) the credit card minimum monthly payment amount should be equivalent to 5% of the total account balance, 2) the credit card average monthly repayment amount for the first six months is calculated at an annual percentage rate (APR) of 36% and 3) the APR of UA Debts Consolidation Loan is assumed at 12%. The actual repayment tenors and saving of monthly repayment amount, varying from case to case, largely depends on the credit card monthly minimum payment amount and its interest rate.
Key Facts Statement for Installment Loan:
The minimum and maximum repayment period is 3 months and 60 months respectively.
The maximum annual percentage rate is 36%.
A representative example of total cost for a loan below is for reference only:

Loan amount: HK$10,000
Monthly installment of HK$1,815 for 6 months
Interest rate: 2.5% per month
Annual percentage rate: 30%
Total repayment amount: HK$10,890