Go Doha Gooooooal! GO GO GOAL!
The much-anticipated 22nd World Mega Football Event has finally kicked off, and this is the first time to be held in winter! Meanwhile, to celebrate the second time to hold this grand event in Asia, UA Finance would like to present the best-in-town+ "Double up" reward for you! UA hopes to enjoy such a special tournament and witness every golden goal with you!
Cash Reward up to $36,0002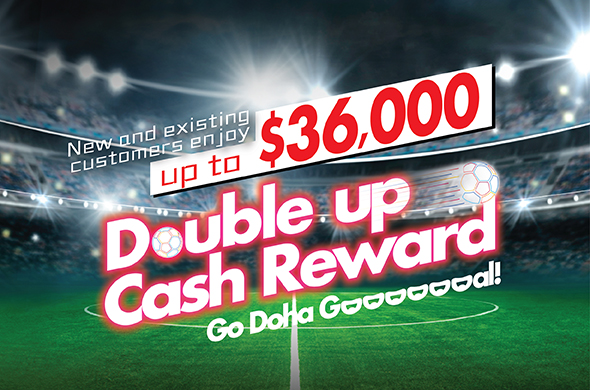 New and existing customers1 enjoy Double up Cash reward up to $36,0002 upon successful loan application and drawdown by December 18, 2022! Let's GOAL!
Apply Now!
EMPOWER YOU TO FIGHT ANOTHER DAY
YESSSSSS UA
Remarks:
+ As of Oct 2022, UA's cash reward is the highest among the major financial companies in Hong Kong.
1 New and existing customers refer to the customers who have not any loan transaction with the Company in the past 24 months from the date of application. For e-Cash Revolving Loan applicants who open account, before Personal Instalment Loan application, within the Promotion Period is granted for exemption to entitle the above reward.
2 Limited time offer (World Mega Football Event) is subject to terms and conditions. For details, please click here.
Key Facts Statement for Instalment Loan:
The minimum and maximum repayment period is 3 months and 60 months respectively.
The maximum annual percentage rate is 48%.
A representative example of total cost for a loan below is for reference only:

Loan amount: HK$10,000
Monthly instalment of HK$1,815 for 6 months
Interest rate: 2.5% per month
Annual percentage rate: 30%
Total repayment amount: HK$10,890