UA "Click to Loan"
New loan experience on mobile, it's just that easy!
Express loan service from application to cash transfer at your fingertips
Click for cash* through FPS even on Sat & Sun
1st in HK1:
The 1st money lender1 to introduce instant ID verification covering New Smart ID Card. Unmanned loan. Accio cash!
Brand New Experience of YESSSSSS UA app:
Apply, drawdown, transfer whenever you want. An easy-to-use interface, faster and easier.
All in the app:
100% Online, Just "Click to Loan" in Yes UA app, complete application in just 3 minutes and receive real-time update on loan offer.
One Click for Cash*:
Unmanned loan for Yes UA app, allows you to get cash stress-free at midnight via FPS.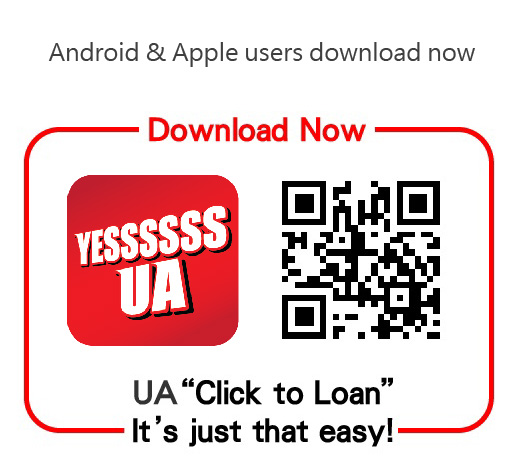 If Android user cannot use Google Play, please follow the steps below to install Android application package (APK) on your mobile device:
Ensure your device allows installation from "Unknown Sources". You can check the setting of "Unknown Sources" from your device security settings.
Download the APK file.
Open the APK file and install.
Disable "Unknown Sources" after successful APK installation.
(Note: Instruction could be varied across models and operating systems.)
1 Comparing the main money lenders in HK.
+As of Nov 2022, UA's cash reward is the highest among the major financial companies in Hong Kong.
*Loan approval and electronic transfer service is available from Monday to Friday (9:00am-6:30pm), Saturday to Sunday (9:00am-5:30pm) and except public holidays. The actual date of transfer is subject to the transfer servicing hours of each individual bank.
Key Facts Statement for Installment Loan:
1.The minimum and maximum repayment period is 3 months and 60 months respectively.
2.The maximum annual percentage rate is 36%.
3.A representative example of total cost for a loan below is for reference only:
Loan amount: HK$10,000
Monthly installment of HK$1,815 for 6 months
Interest rate: 2.5% per month
Annual percentage rate: 30%
Total repayment amount: HK$10,890